Turn in Applications to:
Coeur d'Alene Public Schools
Nutrition Services
1242 E Best Avenue
Coeur d'Alene, Idaho 83814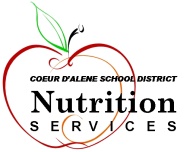 NEW STUDENTS
New applicants and new students to Coeur d'Alene School District will be charged full price for meals until their application is processed and approved. New students do need to submit an application, even if they had benefits at their previous district and/or if they have a sibling receiving benefits.
Meal Applications
Now Accepting New Applications
2021-2022 School Year
Free and Reduced Price Meal Benefits

EXPIRE

each school year!
New meal applications MUST be turned in at the start of each new school year.
Applications can be filled out ONLINE or on a printable PAPER Application.
Please complete and submit a new application for the 2021-2022 School Year before the first day of school.
All Free and Reduced Price Meal Benefits EXPIRE each year. To continue or renew your benefit status, Nutrition Services must receive, process, and approve a Meal Application for the current school year.
Meal Benefits start the DAY the application is APPROVED and cannot be back-dated to cover meals charged after benefits have expired. Parents/Guardians are responsible to PAY FULL PRICE for meals charged and/or debt incurred by students: when meal benefits expire, during gaps in benefits due to no current application and if the application is denied. If your application is denied, you may re-apply at any time if you have a change in income or household situation.
All information on your application is confidential and will only be used for the meal program. In the cafeterias all students' accounts look identical, so no one can tell what the meal benefit status is. We respect the privacy of our customers.
Applications are being accepted during the summer months.
Our Nutrition Service Staff is available for assistance or questions.
Call us at (208) 667-7469 Monday-Friday, 7 AM to 3 PM.
We are located at 1242 E Best Ave., Coeur d'Alene, ID 83814.
ELIGIBILITY
Students may receive free or reduced price meals if your household's income is within the limits on the Federal Income Eligibility Guidelines.
Your student(s) may qualify for free or reduced price meals if your household income falls at or below the gross annual income limits on this chart (Gross income is the total income received before taxes or deductions.)
Income Chart (before taxes)
Effective July 1, 2021 - June 30, 2022
| | | | |
| --- | --- | --- | --- |
| Household Size | Annual Income | Monthly Income | Weekly Income |
| 1 | 23,828 | 1,986 | 459 |
| 2 | 32,227 | 2,683 | 620 |
| 3 | 40,626 | 3,386 | 782 |
| 4 | 49,025 | 4,086 | 943 |
| 5 | 57,424 | 4,786 | 1,105 |
| 6 | 65,823 | 5,486 | 1,266 |
| 7 | 74,222 | 6,186 | 1,428 |
| 8 | 82,621 | 6,886 | 1,589 |
| Each addition person add: | +8,299 | +700 | +160 |